High Risk New Born Clinic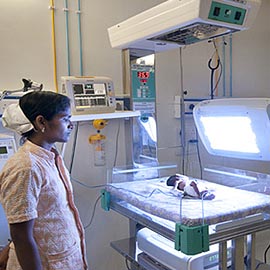 Every family looks forward to the birth of a healthy newborn. It is an exciting time with so much to enjoy. In some cases, though, unexpected difficulties and challenges occur along the way.
Some newborns are considered high risk. This means that a newborn has a greater chance of complications because of conditions that occur during fetal development, pregnancy conditions of the mother, or problems that may occur during labor and birth.
Some complications are unexpected and may occur without warning. Other times, there are certain risk factors that make problems more likely.
Bedekar's Hospital is well equipped with latest instruments and ventilators which improve the care of sick newborn. Under the care of specialized physicians and other healthcare providers, babies have much greater chances for surviving and getting better today than ever before.
The NICU has higher end high frequency drager ventilator.
---